Planning as problem-solving for urban resilience and community empowerment
Hugo was born and raised in Los Angeles. His parents immigrated to the U.S. from El Salvador, where they would often visit while he was growing up. His personal connection with San Salvador's "urban geography of risk," its "context of stark social … and economic inequality," motivated his early interest in urban planning. "El Salvador has only recently adopted land-use planning. That seems odd to us in the U.S., but it's the reality in a lot of places around the world." In the absence of formal land-use planning, though, he observes that "communities create a resilient, vibrant culture, they persist and thrive." He sees planning broadly, encompassing both these grassroots efforts and more formal, professionalized structures.
Dr. Sarmiento's broad view of planning also extends to his early involvement in community-based research, which was reinforced during his master's program at UCLA. "Because it's in LA, [UCLA's Department of] Urban Planning is connected to community projects," a connection that helps make clear the connection between planning theory, planning practice, and social movements to support fair labor conditions, greenhouse gas reduction, and environmental justice movements. "What's the point of research?" he asks. "It's to inform real practice."
As a doctoral student, Hugo conducted research at UCLA's Institute for Research on Labor and Employment on a Ford Foundation sponsored project which studied the informal sector in Guatemala, Costa Rica, Mexico, and Brazil. He also worked at UC Berkeley's Don Vial Center for the Green Economy. Several early publications arose from that experience, including two peer-reviewed articles and a report to USAID. During this time, he also traveled to Washington, DC to attend conferences and meet with policymakers, activists, and academics focused on making a transition to the green economy.
When he was thinking about a dissertation project, Hugo wanted to connect his Latin American roots and research experience with his work on planning for adaptation to climate change. "I thought about San Salvador," he says, "and I visited to connect with city planners there, but there are a lot of challenges there. With so much instability and social conflict at this time, it's hard to develop projects."
Colombian cities, by contrast, currently have more stable planning institutions and better developed planning instruments, which have led to urban innovations of many kinds in Bogotá and Medellín. It is not surprising then that these cities are repeatedly cited as models, not only for Latin America, but for the entire globe. During a Bogotá conference on risk management and climate change adaptation, Hugo visited parts of the city where he saw strong parallels with the settlements, terrain, and challenges facing San Salvador. Ultimately, his dissertation focused on how Bogotá used innovative financing techniques and zoning strategies to redirect development from the most hazard-prone areas of the city to safer locations.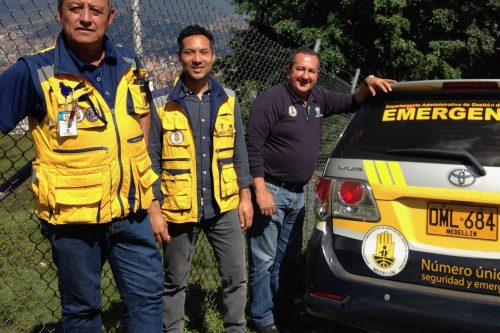 The opportunity in disasters
Prof. Sarmiento enjoys working on projects related to climate change and post-disaster recovery planning, perhaps ironically, because he's so optimistic about our ability to rise to challenges. "What's clear from studying development in the post disaster context," he says, "is it disrupts business as usual and forces us to think about things we take for granted. It's an opportunity to change things, improve on what's already there. That sort of promise is what's appealing to me. We have to question everything now. There's no alternative — we have to find a solution." Asked how he can remain so optimistic even when working in the context of the global climate crisis, Hugo responds, "It comes from being able to connect with communities experiencing it. It's an existential threat, whether flooding, landslides, or other things, but they manage to adapt and survive, and they do that outside formal planning and policy influence."
Hugo knows well, though, that those formal plans and policies make a difference, and that changing them can help. In fact, in this moment we have the opportunity to redefine traditional forms of disaster risk reduction in terms of a climate justice focused approach. That's partly why his dissertation, and the publications from it, observe the impacts and effectiveness of formal policies — recommending improvements to land-use planning techniques. It also informs his thinking about how he'll help the Department build our new partnership with the municipality of Loíza, Puerto Rico. In spring 2020, despite the pandemic, Illinois planning students led by emeritus Prof. Rob Olshansky engaged with planners and stakeholders in Loíza, informing parallel work by students in the University of Puerto Rico's Graduate School of Planning. Hugo will continue this work in coming semesters, working with the community to develop strategies to manage increasingly severe storms, rising seas, and possibly even relocation to safer ground. His other new projects include research in another Colombian city, Cali, as well as new research in Brazil.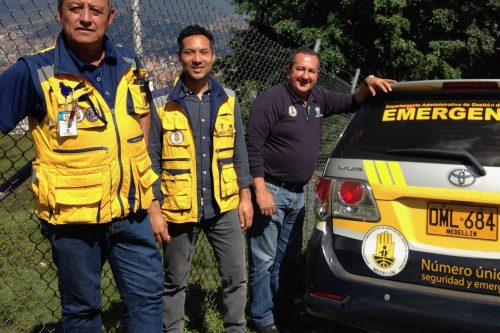 Illinois as a platform for impact
Already, Hugo can see that the University of Illinois is a great place to work across disciplines that help shed light on community adaptation and resilience. Compared with UCLA and UC Berkeley, he's found Illinois an institution where "it seems more natural to cross boundaries. Physical science scholarship and engineering are central to the university, so it would be a missed opportunity not to learn from them. There's an opportunity to engage with scholars in different areas, like civil engineering. Civil engineering students today aren't just technocrats; they're thinking about social implications of their work." He has already built relationships with social-science faculty in the Department of Geography and Geographic Information Science and the Department of Natural Resources and Environmental Sciences (NRES).
Prof. Sarmiento is also eager to contribute to the current discussion on racial inequality and social justice, both in urban planning education and urban scholarship more broadly. "It's important to engage in the academy directly through professional associations, conferences, and engagement with other scholars, especially now. Racial injustice and the Black Lives Matter movement make it obvious that [the Association of Collegiate Schools of Planning and the Urban Affairs Association] have to remain engaged with issues of inequality and social injustice." Part of this engagement, he says, "must be the cultivation and involvement of diverse planning educators and a critical scholarship."
It's a great pleasure to welcome Dr. Sarmiento to the Department of Urban and Regional Planning.
To view Dr. Sarmiento's Faculty Page, see here.