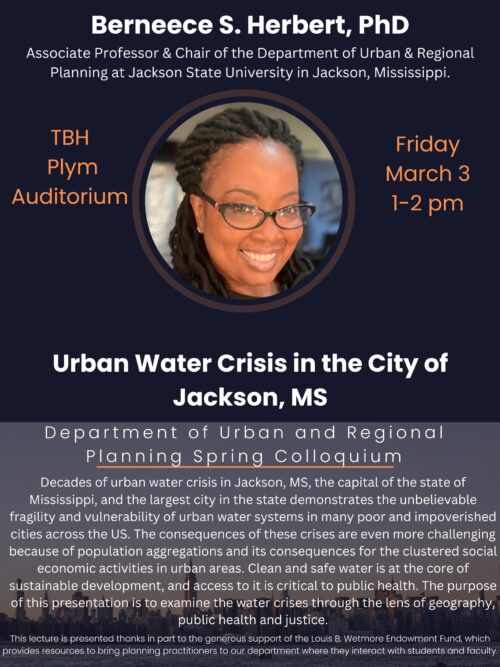 Berneece S. Herbert, PhD, Associate Professor & Chair of the Dept. of Urban & Regional Planning at Jackson State University, Jackson, Mississippi
Urban Water Crisis in the City of Jackson, MS
Decades of urban water crisis in Jackson, MS, the capital of the state of Mississippi, and the largest city in the state demonstrates the unbelievable fragility and vulnerability of urban water systems in many poor and impoverished cities across the US. The consequences of these crises are even more challenging because of population aggregations and its consequences for the clustered social economic activities in urban areas. Clean and safe water is at the core of sustainable development, and access to it is critical to public health. The purpose of this presentation is to examine the water crises through the lens of geography, public health and justice.
If you are unable to attend in person, you can register for Zoom information here.
This series is presented thanks in part to the generous support of the Louis B. Wetmore Endowment Fund, which provides resources to bring planning practitioners to our department where they interact with students and faculty.