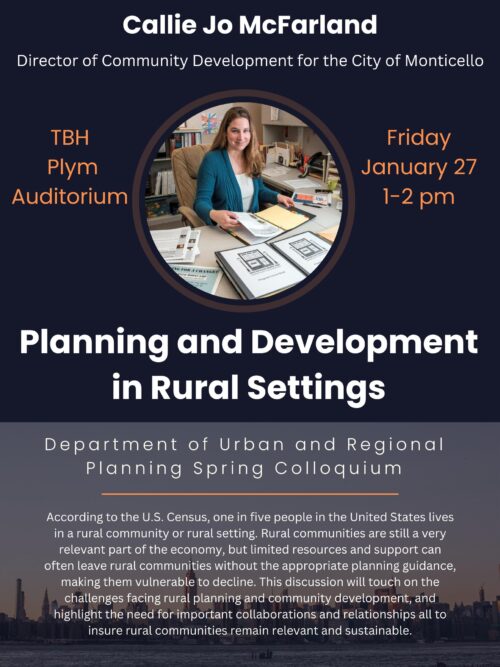 Planning and Development in Rural Settings
According to the U.S. Census, one in five people in the United States lives in a rural community or rural setting. Rural communities are still a very relevant part of the economy, but limited resources and support can often leave rural communities without the appropriate planning guidance, making them vulnerable to decline. This discussion will touch on the challenges facing rural planning and community development, and highlight the need for important collaborations and relationships all to insure rural communities remain relevant and sustainable.
Callie McFarland has been with the City of Monticello since 2004, serving as of Director of Community Development since 2008. Her primary focuses are small business development, business retention and expansion, downtown revitalization and preservation, and land use planning. Callie received her B.A. in Urban and Regional Planning from the University of Illinois and is currently doing graduate work in the field of Community and Economic Development from Western Illinois University.  She is a member of the American Planning Association, Illinois Development Council, Rural Partners of Illinois, International Economic Development Council, and has been a certified Professional Community and Economic Developer since 2011.
If you are unable to attend in person, you can register for Zoom information here.
This series is presented thanks in part to the generous support of the Louis B. Wetmore Endowment Fund, which provides resources to bring planning practitioners to our department where they interact with students and faculty.