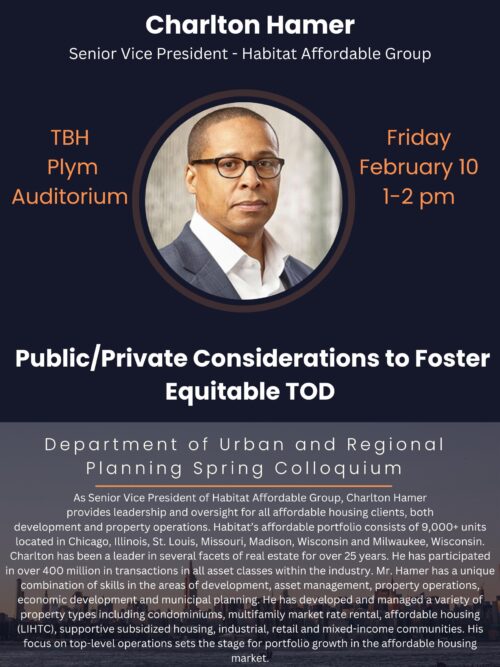 Public/Private Considerations to Foster Equitable TOD
As Senior Vice President of Habitat Affordable Group, Charlton Hamer provides leadership and oversight for all affordable housing clients, both development and property operations. Habitat's affordable portfolio consists of 9,000+ units located in Chicago, Illinois, St. Louis, Missouri, Madison, Wisconsin and Milwaukee, Wisconsin. Charlton has been a leader in several facets of real estate for over 25 years. He has participated in over 400 million in transactions in all asset classes within the industry. Mr. Hamer has a unique combination of skills in the areas of development, asset management, property operations, economic development and municipal planning. He has developed and managed a variety of property types including condominiums, multifamily market rate rental, affordable housing (LIHTC), supportive subsidized housing, industrial, retail and mixed-income communities. His focus
on top-level operations sets the stage for portfolio growth in the affordable housing market. Charlton has served in several leadership roles at real estate firms like Redstone Urban Properties, LLC; VESTA Corporation and Shore Area Community Development Corporation . Professionally, Charlton is a member of the Urban Land Institute, the American Planning Association and the University of Illinois Alumni Association. He serves on the advisory board for Roosevelt University Marshall Bennett Institute of Real Estate and previously served as the chairman of the Bridgeport, Connecticut, Redevelopment Agency. Charlton holds a Master of Urban Planning and Policy from the University of Illinois at Chicago and a Bachelor of Arts in Urban Planning from the University of Illinois at Champaign-Urbana. He is a licensed real estate broker in the state of New York.
If you are unable to attend in person, you can register for Zoom information here.
This series is presented thanks in part to the generous support of the Louis B. Wetmore Endowment Fund, which provides resources to bring planning practitioners to our department where they interact with students and faculty.