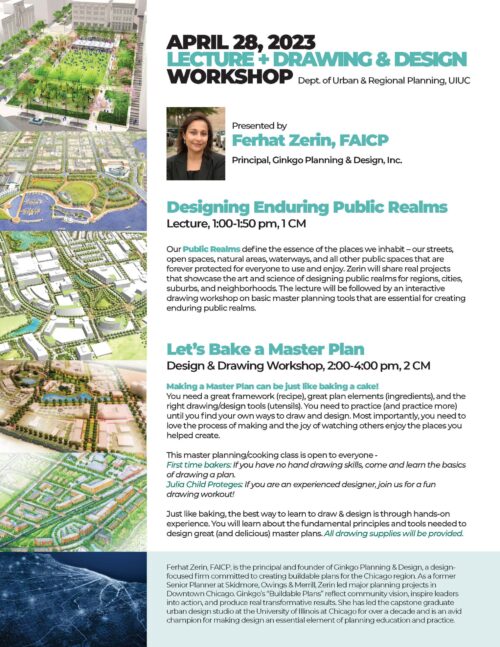 Lecture-Designing Enduring Public Realms
Lecture, 1:00-1:50 pm, 1 CM
Our Public Realms define the essence of the places we inhabit – our streets, open spaces, natural areas, waterways, and all other public spaces that are forever protected for everyone to use and enjoy. Zerin will share real projects that showcase the art and science of designing public realms for regions, cities, suburbs, and neighborhoods. The lecture will be followed by an interactive drawing workshop on basic master planning tools that are essential for creating enduring public realms.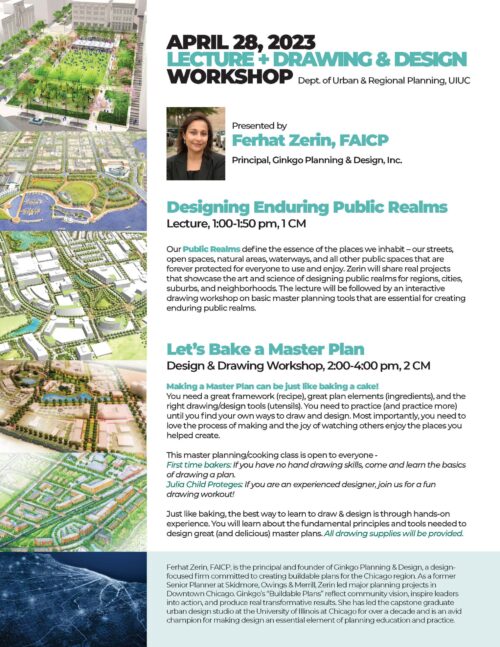 Let's Bake a Master Plan
Design & Drawing Workshop, 2:00-4:00 pm, 2 CM
Making a Master Plan can be just like baking a cake!
You need a great framework (recipe), great plan elements (ingredients), and the right drawing/design tools (utensils). You need to practice (and practice more) until you find your own ways to draw and design. Most importantly, you need to love the process of making and the joy of watching others enjoy the places you helped create.
This master planning/cooking class is open to everyone –
First time bakers: If you have no hand drawing skills, come and learn the basics of drawing a plan.
Julia Child Proteges: If you are an experienced designer, join us for a fun drawing workout!
Just like baking, the best way to learn to draw & design is through hands-on experience. You will learn about the fundamental principles and tools needed to design great (and delicious) master plans. All drawing supplies will be provided.
Ferhat Zerin, FAICP
Ferhat Zerin, FAICP, is the principal and founder of Ginkgo Planning & Design, a design-focused firm committed to creating buildable plans for Chicagoland communities. As a former Senior Planner at Skidmore, Owings & Merrill, Zerin led major urban planning projects in Downtown Chicago and the City. Her "Buildable Plans" reflect community vision, inspire local leaders into action, and produce real transformative results. She led the capstone graduate urban design studio at the University of Illinois at Chicago for over a decade and is an avid champion for making design an essential element of planning education and practice.
If you are unable to attend in person, you can register for Zoom information here.
This series is presented thanks in part to the generous support of the Louis B. Wetmore Endowment Fund, which provides resources to bring planning practitioners to our department where they interact with students and faculty.