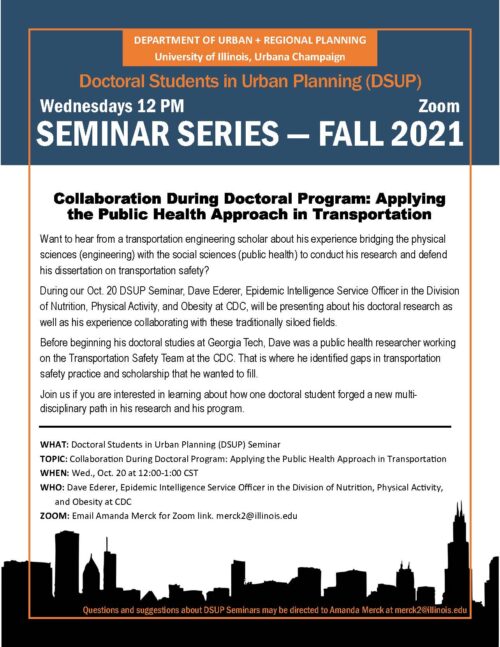 DSUP Seminar Series: Collaboration During Doctoral Program: Applying the Public Health Approach in Transportation
Dave Ederer, Epidemic Intelligence Service Officer in the Division of Nutrition, Physical Activity, and Obesity at CDC
Want to hear from a transportation engineering scholar about his experience bridging the physical sciences (engineering) with the social sciences (public health) to conduct his research and defend his dissertation on transportation safety?
Dave Ederer will be presenting about his doctoral research as well as his experience collaborating with these traditionally siloed fields.
Before beginning his doctoral studies at Georgia Tech, Dave was a public health researcher working on the Transportation Safety Team at the CDC. That is where he identified gaps in transportation safety practice and scholarship that he wanted to fill.
Join us if you are interested in learning about how one doctoral student forged a new multi-disciplinary path in his research and his program.
All seminars will be on Zoom. Contact Amanda Merck (merck2@illinois.edu) for more information.