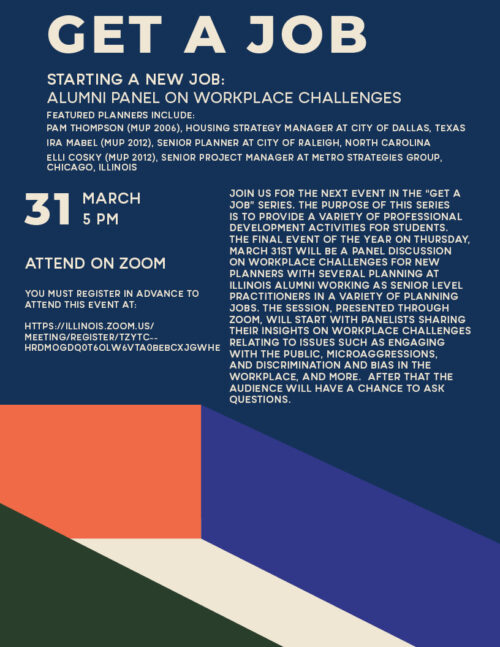 "Get A Job" Series - Starting A New Job Alumni Panel on Workplace Challenges
Thursday, March 31st at 5pm on Zoom (see registration information below)
Join us for the final event in the "Get A Job" series. The purpose of this series is to provide a variety of professional development activities for students. The final event of the year on Thursday, March 31st will be a panel discussion on workplace challenges for new planners with several Planning at Illinois alumni working as senior level practitioners in a variety of planning jobs. The session, presented through Zoom, will start with panelists sharing their insights on workplace challenges relating to issues such as engaging with the public, microaggressions, and discrimination and bias in the workplace, and more.  After that the audience will have a chance to ask questions.
Featured planners include:
Pam Thompson (MUP 2006), Housing Strategy Manager at City of Dallas, Texas
Ira Mabel (MUP 2012), Senior Planner at City of Raleigh, North Carolina
Elli Cosky (MUP 2012), Senior Project Manager at Metro Strategies Group, Chicago, Illinois
You must register in advance to attend this event at:
https://illinois.zoom.us/meeting/register/tZYtc–hrDMoGdQ0T6OLw6vta0bEBcxJGwhe
After registering, you will receive a confirmation email containing information about joining the meeting.