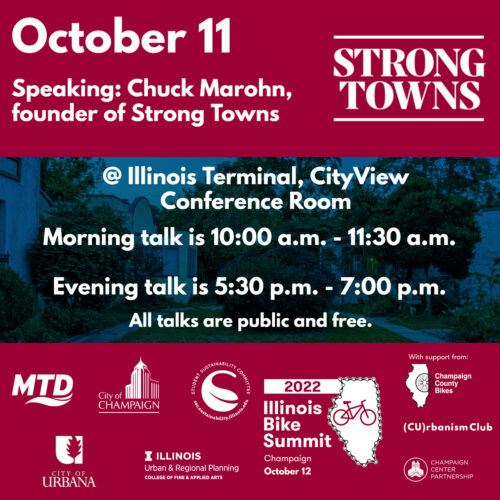 Charles Marohn: Strong Towns
Charles Marohn, founder of the Strong Towns movement will be speaking at 10:00 am and 5:30 pm at the Illinois Terminal.
Going from Strong Towns Ideas to Implementation.
Illinois Terminal City View Room, 4th Floor. 10:00-11:30am (Venue provided by CU-MTD)
● What does it look like to value and become a resilient community?
● What does it practically look like to take incremental steps toward resilience?
○ In housing? Where do ADUs fit in? In increasing our density?
○ In our Downtown areas? In scattered commercial spaces? What do we do with our outer
fringe business developments?
○ In our policies? In our budgets? In our use of TIF areas?
○ What does continuous adaptation, iterating, and learning look like for our planning and
engineering departments, for our city councils?
○ In our streets and roads? What do we need to rethink, and redo?
● How do staff and elected officials work with community advocates and outside consultants as
we adopt a Strong Towns approach?
● What are three important questions we should be asking about our current city finances? What
financial metrics should a Strong Town community track?
Charles will speak for approximately 30 minutes, and the remaining 60 minutes will be held for
questions and discussion with the attendees.
Target audience: City staff, elected officials, and community advocates. All others are welcome,
especially UIUC students and faculty with conflicts with the afternoon presentation.
Strong Towns: A Bottom Up Approach to Rebuild American Prosperity
Illinois Terminal City View Room, 4th Floor. 5:30-7:00pm (Venue provided by CU-MTD.)
In this presentation, Marohn will explain why our cities are on the cusp of a long, slow decline, and how
to approach the necessary triage in a rational way. He'll share why old and blighted areas are often
more financially productive than shiny new ones and how humble public engagement can create
amazing insights.
Charles will speak for approximately 45 minutes, and the remaining 45 minutes will be held for
questions and discussion with the audience.
Target audience: Everyone. This is an overview presentation of the Strong Towns approach to
community health and financial resilience. It will look at planning and engineering, and policies and
finances that work towards or against a healthy community.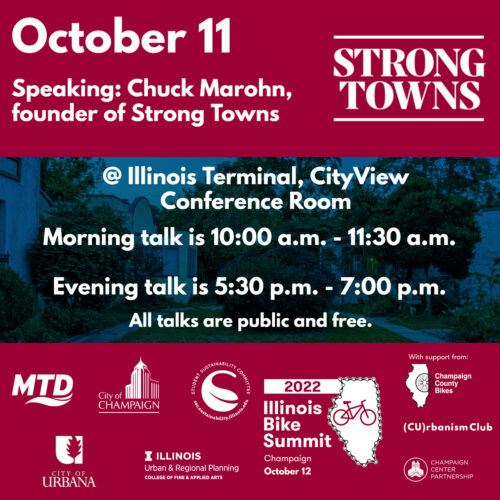 Charles Marohn
About Strong Towns: The way we grow our cities squanders financial resources and doesn't truly serve the people who live in them. Strong Towns helps local leaders identify the problem and take action to build a stronger, financially resilient future. The Strong Towns movement is reshaping the North American development pattern with a return to bottom-up, incremental growth.
Charles Marohn—known as "Chuck" to friends and colleagues—is the founder and president of Strong Towns. He is a land use planner and (retired) professional engineer with decades of experience. He holds a bachelor's degree in civil engineering and a Master of Urban and Regional Planning, both from the University of Minnesota. Marohn is the author of Strong Towns: A Bottom-Up Revolution to Rebuild American Prosperity (Wiley, 2019) and Confessions of a Recovering Engineer: Transportation for a Strong Town (Wiley 2021). He hosts the Strong Towns Podcast and is a primary writer for Strong Towns' web content. He has presented Strong Towns concepts in hundreds of cities and towns across North America.