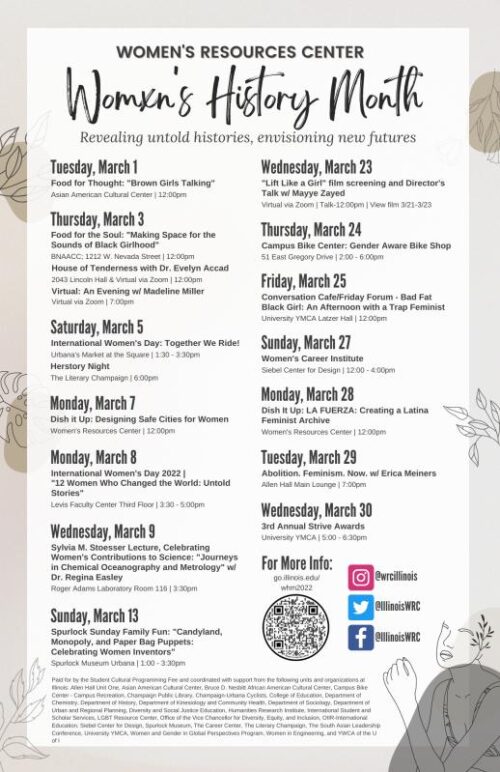 Women's History Month
Women's History Month is an annual celebration commemorating and encouraging the study, observance, and celebration of the vital role of women in American history.  This year's events explore the theme of "Revealing Untold Histories, Envisioning New Futures."  In addition to the events listed, we encourage you to follow us on social media for regular posts highlighting the contributions of women throughout history into today.
You may find information about ongoing events on our website here and on the WRC Calendar here.
Women's History Month Events
March 7  (noon – 1 p.m. CST): Lunch on Us: Dish It Up – Designing Safe Cities for Women, hosted by Women's Resources Center
March 8 (3:30 p.m. CST): International Women's Day 2022 | "Women Who Changed the World: Untold Stories", hosted by Women & Gender in Global Perspectives and the Humanities Research Institute
March 9 (3:30p.m. CST): Sylvia M. Stoesser Lecture in Chemisty, Celebrating Women's Contributions to Science: "Journeys in Chemical Oceanography and Metrology", hosted by the Department of Chemistry
March 9 (5:30 – 7:00 p.m. CST): International Women's Day Photography Awards & Gallery Opening, hosted by International Education, International Student and Scholar Services, Asian American Cultural Center and Women's Resources Center
March 13 (1:00 p.m. – 3:30 p.m.) Spurlock Sunday Family Fun: "Candyland, Monopoly, and Paper Bag Puppets: Celebrating Women Inventors", hosted by Spurlock Museum, 600 S. Gregory, Urbana
Planning at Illinois is a co-sponsor of this event.