A Flexible Curriculum
Our curriculum offers flexibility. Students can design a program that matches their professional goals and obtain their graduate degree in only 2 semesters. This program provides a 1-year (9 months), full-time, in-residency degree.
Urban management professionals stand at the forefront to accommodate for rapid changes. Through the MSSUM program, you'll learn the analytical and strategic skills essential for today's midcareer professional to manage urban areas.
MSSUM students complete a total of 32 hours. Per the Graduate College Handbook, at least 12 of these hours must be at the 500-level or greater and approved for graduate credit (including thesis, research, or independent study credit), and 8 of these 12 hours must be in the major.
16 hours of required Core Courses
12 hours of specialized courses in one or more Primary Areas of Study
4 hours of Electives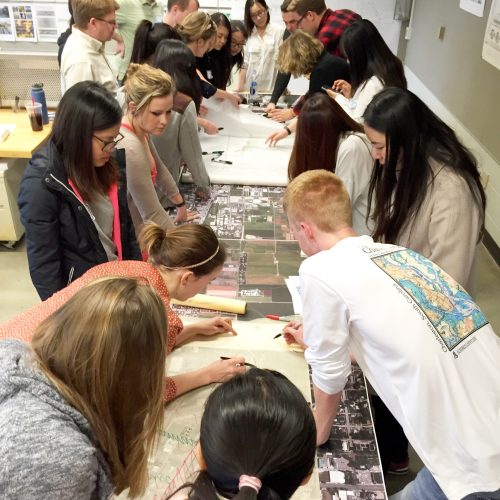 MSSUM Core Courses (16 hours)
The 4 core courses build a common base of knowledge for midcareer professionals working on a variety of urban issues. These required classes address fundamental challenges confronting urban areas. The core introduces students to:
an overview of current urban issues and challenges
theory and interpretation of human settlement from several disciplinary perspectives
practical skills that urban managers need to analyze challenges and understand regional trends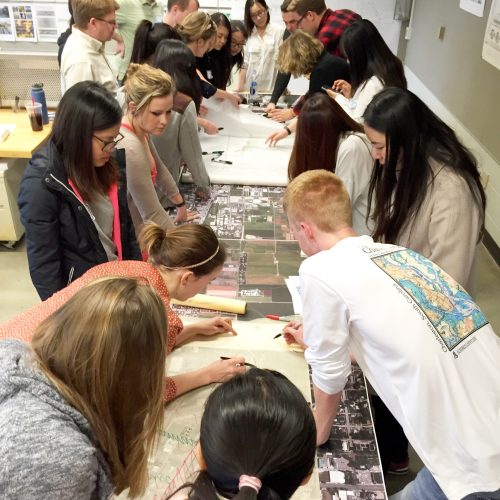 Fall Semester
UP 504: Urban History and Theory (4 hours)
Provides students with a historical and international comparison of the origins and evolution of cities, the process of urbanization, and the human endeavor to effect urban growth and change. Topics covered include history of urban physical form and planning efforts, equity issues of urban spatial arrangement, and elements of urban physical form. Students critically reflect on the historical evolution of cities and how this relates to current issues in a series of assignments.
UP 512: Urban Skills and Applications I – Colloquium (4 hours)
Provides students with recent research in contemporary changes, emerging trends, and new challenges in environmental sustainability, housing, economic development, and other core fields of urban management. Students develop research proposals that become the basis for research practicums in UP 513.
Spring Semester
UP 505: Urban and Regional Analysis (4 hours)
Familiarizes students with the techniques, data sources, and skills for analyzing regions as economic, social, and spatial systems. The course's first half focuses on understanding current conditions and trends. The second half centers on forecasting most likely and alternative futures. Students apply these skills to the characterization and analysis of chosen regions and issues.
UP 513: Urban Skills and Applications II – Chicago Practicum (4 hours)
Helps students apply quantitative and qualitative reasoning and analysis techniques to problem identification, researching and detailing alternatives, and selecting policy and intervention approaches within real-world constraints. Throughout the course, students assess and workshop projects, culminating in a final report and presentation.
Primary Area of Study (12 hours)
Students develop specialized knowledge and expertise in one or more sub-fields. Courses in a Primary Area of Study examine policy interventions and provide the tools needed to critically evaluate these programs.
Subject areas:
Regional Systems and Informatics
Energy and Environment
Governance and Community
Electives (4 hours)
Students choose electives to explore additional topics and acquire new skills. A wide range of options include:
Geographic Information Systems (GIS)
Watershed ecology and planning
Economic development
Plan making
Historic preservation
Community development
Urban design
Transportation planning
Bike and pedestrian planning
Scenario planning
sustainability
land use planning and policy
physical planning
energy and the built environment
real estate development fundamentals
Estimated Program Costs
This 1-year program is for midcareer professionals who are able to pay full tuition costs. No tuition waivers are available for this program.
2021-22 Academic Year Tuition: $29,614 (resident and non-resident)
Campus fees*: $5,020
Room & board: $13,314
Books & supplies: $1,800
Other**: $3,090
* Includes approximately $1,832 for student health insurance which can be waived at student request and upon University approval.
** Includes allowances for transportation, clothing, recreation, and other living or miscellaneous expenses. These expenses vary greatly based on the individual student's lifestyle, and the allowance is based on what are considered reasonable but modest costs after surveying segments of our student population.
Questions?
Dr. Dustin Allred
MSSUM Coordinator
Department of Urban and Regional Planning
University of Illinois at Urbana-Champaign
111 Temple Buell Hall, 611 E Lorado Taft Dr, Champaign, IL 61820
Voice: 217-333-6531
Email: dallred2@illinois.edu